Regular price
¥1,980 JPY
(税込)
Regular price
Sale price
¥1,980 JPY
Unit price
per
Sale
Sold out
A lesson video
where you can practice and check English pronunciation using the AI ​​interpreter POCKETALK
POCKETALK Utilization Point

POCKETALK translates the Japanese spoken into English and is suitable for language learning because it can understand text and pronunciation.

You can easily learn the expression you want to know, not a fixed expression in the textbook.
You can check for yourself if you can speak English with the correct pronunciation using a pocket talk.
You can practice thoroughly until you are satisfied with yourself.

Operating environment and attention

You can watch this product on DVD.
This video is a lesson video produced by Source Nex Co., Ltd. The copyright of this video content belongs to Source Nex Co., Ltd. Use other than personal viewing, such as duplication and broadcasting without permission, publishing on the Internet or using it for screening, is strictly prohibited. Also, please be careful not to use personal viewing, as copyright infringement.
View full details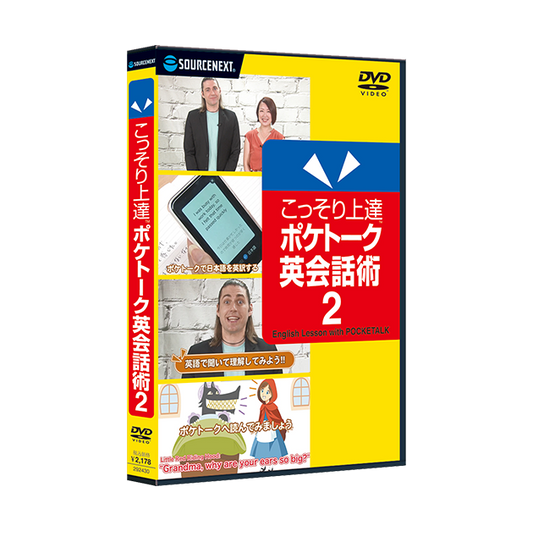 Sneak improvement POCKETALK English conversation technique

Lesson content (60 minutes)

Lesson0 Guidance

Lesson1 Greetings

Morning greeting
Daily greeting
Thank you
Averaging
Celebrate
Listen, re -say
Column -Pocketard Center for words books

Lesson2 Conversation with the first person I meet

Make a self-introduction
Talk about your profession
Listen to the other person
Column- "With foreigners
About "Icontact" ~

Lesson3 Let's talk a lot with foreigners ~ When I'm in Japan

Call out to people in trouble in the city
Talk to the first -time person at a restaurant
Are you doing SNS? (Listen, accept, refuse)
Let's go to a meal! Accept the invitation, refuse
Column -How to hit Aizuchi-

Lesson 4 Tips for Talking

About family
About work
About hobbies
About the previous schedule (future)
Column -Questions should not ask too much ~

Secretly improving POCKETALK English conversation technique 2

Lesson content (60 minutes)

Lesson0 Guidance

LESSON1 Ponalnic Training

Practice English words to POCKETALK and warm up


Lesson2 Story Training (listening / speaking / writing)

Training with "Red Riding Hood"
Find training materials on the Internet

Let's post English on Lesson3 SNS
Lesson4 English diary (listening / speaking / writing)
Lesson 5 Status Explanation Practice for each person
At the end of Lesson6